Fullscreen Photo Viewer is a Windows program designed for high-quality viewing of high-resolution pictures on the computer screen. It renders the image using advanced scaling algorithm to fit the resolution of your monitor.
Since it doesn't require any additional files/registry entries to run, it is perfect for including with Photo CDs or DVDs. It can be given a path to the directory containing images as its parameter.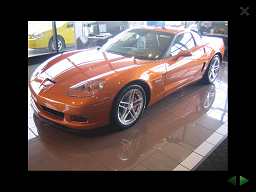 Features:
- supported file formats are: bmp, gif, jpg, png, mbm, tga* and tiff.
- ability to open image files recursively from directory and all its subdirectories.
- option to display basic info about graphic file (press F2 to toggle on/off).
- support for touchscreen computers (next/previous and close button).
- color management support (press F12 to toggle color management on/off).
- "Delete file" option (press Delete button).
- multi-threading for faster displaying of images.
- "Copy file path to clipboard" option (press Insert button).
- secret option to minimize Fullscreen Photo Viewer window (
right
click on "Quit" menu item).
- experimental 3d support (press F9 to toggle). You will need red-cyan glasses to view images in 3d.
- support for true
stereoscopic files
(click link for details). Red-cyan glasses needed.
- fast, uncluttered and super small file size (Fullscreen Photo Viewer.exe is 150Kb only!)
(* for tga file format experimental support only - see
versions
for additional details).
Fullscreen Photo Viewer works with Windows XP, Windows Vista, Windows 7, Windows 8, Windows 10 and Windows 11.
Fullscreen Photo Viewer 64 bit edition:
Download
The 64 bit version Version of Fullscreen Photo Viewer additionally supports JPEG-XR, HEIC* and WebP**
file formats. Zip file contains only executable for the program, there is no installer for it at the moment.
If you need installer - install 32bit edition and then overwrite Fullscreen Photo Viewer executable in installation directory (default: "C:\Program Files (x86)\FullScreen Photo Viewer\") with 64 bit version.
Also tell Windows to open .heic, .xjr and .webp files with Fullscreen Photo Viewer.
Please note that in the future 32 bit edition might be discontinued, so if you have a need for it (to run on older computers for example), you are advised to make a back up.
* for heic file format you need to have HEIC codec onstalled on your system - you can get one
here
(non commercial use).
** To have WebP files displayed you will need to install WebP codec on your system - you can get one
here
. Also note that with codec you can display only static WebP files, in case of animated WebP images a blank file will be shown. If you want to have support for animated WebP files in FPV as well (i.e. to have first frame shown in FPV), please download
MyBitmap
converter/editor program, unzip it somewhere on your drive and register MBM files with it (Options->Register Files). MyBitmap has native support for WebP files and if you register MBM files with it, FPV will detect that MyBitmap is "installed" on your system and will use MyBitmap's native support for WebP files as a failback (if codec fails or not installed, FPV will try to open WebP using MyBitmap's method).
To check if MyBitmap is being correctly detected by Fullscreen Photo Viewer, open image in FPV and click right mouse button. If it is detected it will show "MyBitmap" menu item under "Open" menu item and above "Next" menu item. Clicking "MyBitmap" menu item will open currently viewed image in MyBitmap converter/editor. In case of animated files (animated gif, animated png or animated webp files) MyBitmap will allow you to see all frames and also animate them with selected speed.
Fullscreen Photo Viewer 64 bit edition works with Windows 7, Windows 8, Windows 10 and Windows 11.