Fullscreen Photo Viewer is a Windows program designed for high-quality viewing of high-resolution pictures on the computer screen. It renders the image using advanced scaling algorithm to fit the resolution of your monitor.
Since it doesn't require any additional files/registry entries to run, it is perfect for including with Photo CDs or DVDs. It can be given a path to the directory containing images as its parameter.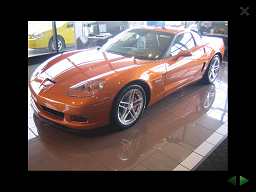 Features:
- supported file formats are: bmp, gif, jpg, png, mbm, tga* and tiff.
- ability to open image files recursively from directory and all its subdirectories.
- option to display basic info about graphic file (press F2 to toggle on/off).
- support for touchscreen computers (next/previous and close button).
- color management support (press F12 to toggle color management on/off).
- "Delete file" option (press Delete button).
- multi-threading for faster displaying of images.
- "Copy file path to clipboard" option (press Insert button).
- secret option to minimize Fullscreen Photo Viewer window (
right
click on "Quit" menu item).
- experimental 3d support (press F9 to toggle). You will need red-cyan glasses to view images in 3d.
- support for true
stereoscopic files
(click link for details). Red-cyan glasses needed.
- fast, uncluttered and super small file size (Fullscreen Photo Viewer.exe is 150Kb only!)
(* for tga file format experimental support only - see
versions
for additional details).
Fullscreen Photo Viewer works with Windows XP, Windows Vista, Windows 7 and Windows 8.